The Environment
WHAT HAPPENS AT BUSH PLAY….for children and for us?
Nature's magic, from the child's perspective, and from ours.
We:
slow down; we walk, talk, be still and watch
listen to the bush and to each other
celebrate the wonder of nature and spend time connecting to the earth, the trees, the creatures, the weather, the sky and ourselves; connect to country
get muddy if we want to
play together or alone in unstructured and uninterrupted play in natural environments
move over undulating hills and open paddocks, exploring native bushland and our woodlands
will visit the billabong when there's water in it, the creek, the clay pit near the dam, and our mudslides
sit and breathe in the expansive views.
We assess risks and notice the benefits of adventurous play; we go at our own pace.
Occasionally we access "resources" on the property such as our mud kitchen, loose parts, the slackline, and rope swings.
We'll share, with child/ren, self-discovery and growth within a wilder environment.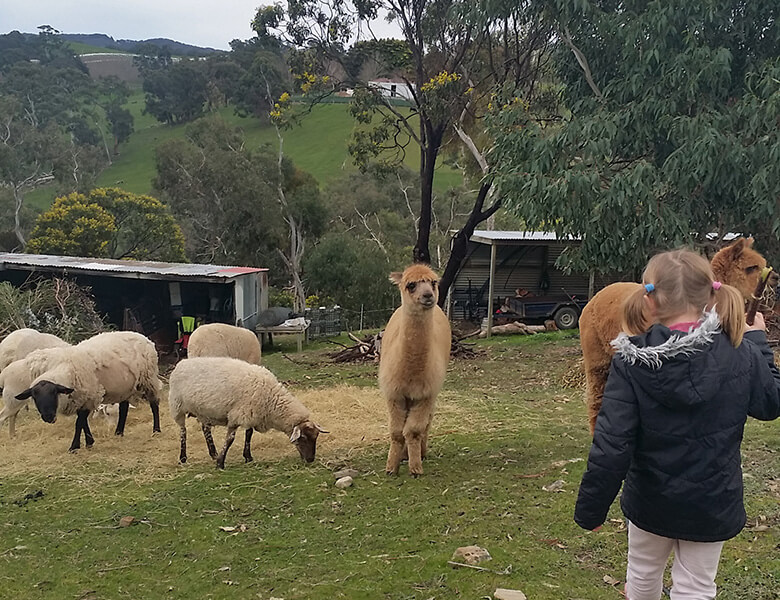 Nature is therapeutic.
We'll socialise as much or as little as we'd like.  This is your space, and, most importantly, your time to be with your child/ren. We have plenty of room to spread out.
We are all free to explore and roam within the fenced paddocks. We will move over the entirety of the 22 acres.  Where we are on the property depends on the weather.
Bush Play is not about a particular philosophy around parenting or nature play or experiential learning. You have chosen to be here because you value outdoor play for your child/ren.
While you are here, I hope you…immerse yourself.
Enjoy your own connection to this space and the joys and challenges of your children connecting to nature in a supported environment.
See nature as the teacher; the environment is the teacher, alongside nurturing and interested adults, and through interactions with other children; we'll learn together and alongside each other.
See the beauty in allowing children to lead their own learning and discovery.  This is, purposely, an unstructured environment, stimulating unstructured free play, for both children and adults.
Give yourself 2 hours, outside, to slow down and soak in the therapeutic nature of the bush.
FAQs
What is my role, as a Parent/Caregiver while my child is at Bush Play?
Please refer to the "The Environment" section.  You have a "Duty of Care" for your own child/ren and will be their supervisor throughout each session.  We work on the premise of the "circle of security" where you stay close to your child until they feel ready to venture forth into their wilder environment.  When they do, most importantly, you are there to delight in their discoveries, joy and wonder, and guide them with their challenges. Our focus is child-led learning.  A child will invite you into their play, or not. You'll notice a shift in your role as the term progresses.
What is the role of the Facilitator?
The Facilitator is your guide and mentor, and has an overall Duty of Care to all those attending the program. They dynamically risk-assess the weather, location, children's behaviour and their response to the environment, alongside sharing the joys and working-through the challenges of "soaking in the therapy" of the bush. They are there as a support person for all participants, both children and adults.
Are there toilets nearby?
Yes, at Cath's house, but there is also a portable toilet available to use.
What clothes do the kids need to wear and do you supply wet-weather gear?
Op-shops are excellent for outdoor play clothes. Our girls' wet-weather gear was through Muddlarks, and they're still going strong 2 years later. Wet-weather pants are the most important.  Jackets you should be able to find either second-hand or cheaply.
I wish I supplied wet-weather gear, however, until I win a Grant, you need to bring all your own protective clothing. Wet-weather pants are highly recommended. Further details regarding clothing is contained in my Extreme Weather Policy within Participant Access.
Is the session cancelled if it rains?
No, only in extreme weather, outlined in above policy. Bush Play is an "all-weather, all-outdoor" program. We do not spend any time inside, and don't cancel the session unless the weather has been deemed "extreme". Extreme weather will be if and when we're expected to have very high winds, and/or if lightning strikes are predicted. We have shelters for unpredicted extreme weather, but we keep ourselves safe using several "safe-zones".
Can I bring more than one child?
Yes, preferably within your own family. You can be the Supervisor of someone else's child if you're their nominated "Caregiver" and through consultation with the Director. This will be determined on a case-by-case basis, for Insurance reasons.
Where will the kids eat snack or lunch?
Wherever we are at the time they're hungry! You bring your own food and drink and we are allergy-aware.
Will you provide bins for our rubbish, like disposable nappies for example?
No, ANY and all rubbish you have with you on-site will need to be taken home with you. You MUST NOT use the rubbish bins at the end of our road on your way out. (This is another specific requirement I must adhere to at all times and please refer to the "Carpark and Road Use Policy" so you understand why.) However, we do have chook buckets for vegetable scraps from snacks brought to Bush Play. We'll learn what can and cannot feed our lovely chooks.
Does your Public Liability cover "Ambulance Cover" for my family?
No Ambulance Cover is only given to individual families, not organisations, so you'll need to arrange your own if you feel it's important. (My husband and I have chosen not to have Private Medical Insurance, however we've had Ambulance Cover since the children were born.)  Please refer to the "Risk Management at Bush Play" form.
Can we arrive before the session begins and just hang out for a bit on the property?
You are able to arrive 10 minutes before the starting time of your nominated session.
Can we hang out at Bush Play once the session is over?
Unfortunately, no. The session times have been specifically formulated to allow for smooth traffic movement between sessions.  Please refer to the "Carpark and Road Use Policy".  Additionally, for Insurance purposes, you are unable to be on-site without the Director/Facilitator being present.